SW-1 Campbell Stimulator
Treatment of amblyopia with SW-1 Campbell Stimulator is based on the assumption of active, controlled stimulation of the patient's eye.
Learn more about product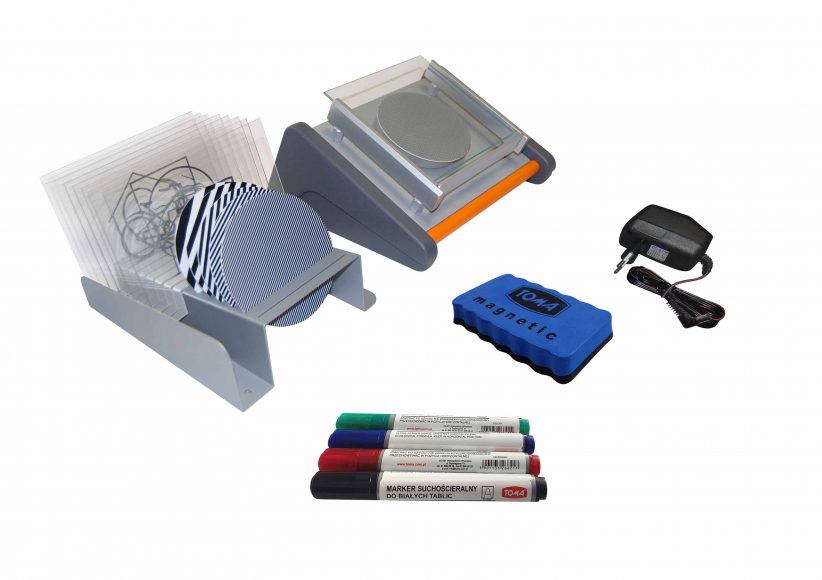 SW-1 (Campbell Stimulator) is a medical device for the treatment of visual impairment based on the concept of active and controlled stimulation of the patient's eye. The rotating stripes provide simple stimuli that stimulate the retina spatially and locally. SW-1 was designed to activate the cells of the cerebral cortex and simultaneously the entire visual system. SW-1 consists of a sturdy body, a set of discs with stripes, a set of slides, a set of colourful, easily erasable markers, and an AC adapter. The stimulator's exercise plane is a background on which a circular test with high contrast stripes is placed, with a slide applied over it.
Contraindications:
In some cases, patient's vision may improve rapidly, so it is important to follow diagnostic standards before exercise and to evaluate the effects of therapy to avoid persistent diplopia. In cases where obstruction treatment is contraindicated, this method should not be used. Caution should be exercised in children older than 8 years of age, mainly for patients with diagnosed eccentric fixation. Pleoptic exercises should then be incorporated and the type of fixation carefully monitored once a week. Exercises should only be performed under the supervision of an ophthalmologist or an orthoptist.
Packaging: 1 box, 480x360x270mm, weight ca. 7kg (gross)