Operator's chair OC-1
Ergonomics, functionality and comfort. OC-1 has been designed to ensure maximum comfort and functionality for the ophthalmic surgeons.
Learn more about product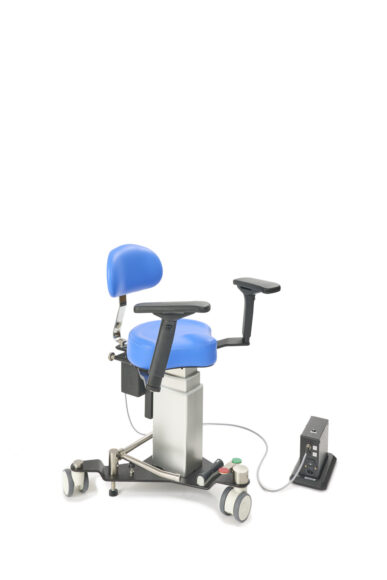 Wide variety of arms support, back rest and seat height adjustments gives the opportunity to achieve the optimum sitting position during ophthalmic procedures. Ergonomically positioned, big up/down switches, operated by surgeon's feet, ensure easy height adjustment, saving a space under an operating table. A robust chair base is equipped with three heavy-duty caster for easy movement around the operation theatre. The base shape allows the OC-1 to fit most of the operating tables available on the market.
Technical specification:
chair up/down height adjustment: 550mm-750mm

arms supports height adjustment: 78mm

arms support rotation adjustment: 126 degree

back rest height adjustment 75mm

back rest forward/backward adjustment: 55mm

input power: 230V/110V 50/60Hz

weight: 40kg

battery power: 2,2Ah, 24V

different upholstery colors available
AVAILABLE COLOURS