BioGlo™ Fluorescein sodium opthalmic strips USP
BioGlo™ is the best-known brand in the diagnostics of ocular surface. It has been well accepted and recognized as the leading diagnostic aid on the ophthalmic market. BioGlo™ strips are being used to diagnose tear film disorders. Fluorescein stains corneal epithelial defects and…
Learn more about product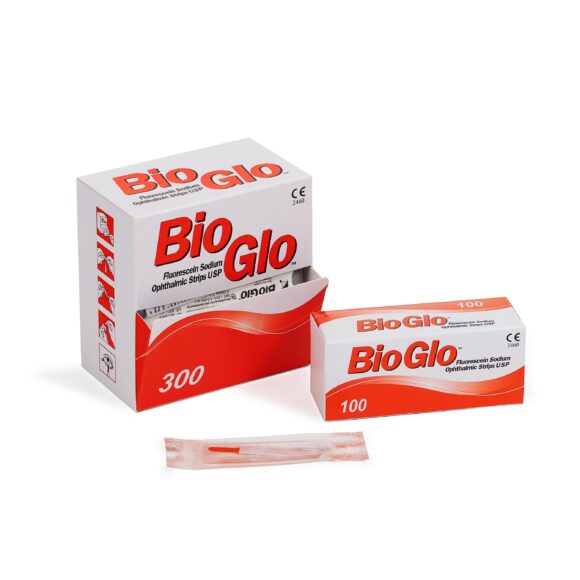 BioGlo™ is the best-known brand in the diagnostics of ocular surface. It has been well accepted and recognized as the leading diagnostic aid on the ophthalmic market. BioGlo™ strips are being used to diagnose tear film disorders. Fluorescein stains corneal epithelial defects and penetrate through these defects into the intercellular space, thus showing the dead epithelial cells and exposed basement membrane of the cornea.
Fluorescein test strips are being used to examine patient's cornea and conjunctiva using a slit lamp with a blue filter on.  Furthermore, fluorescein is widely used in measuring intraocular pressure using applanation tonometry to evaluate hard contact lens fitting, and to evaluate break-up time (B.U.T.) in Dry Eye Disease.
Parameter measured:
Number of punctate dye spots corresponding to defects in the surface of the cornea.
Method of a performance:
Cobalt filter is switched on in the slit lamp.
One strip that has been pre-wetted with physiological saline solution is being placed in the lower fornix of the conjunctival sac for a short time.
The patient is asked to blink the eyes several times to spread fluorescein.
Intensively stained fluorescein spots in the palpebral fissure are being counted.
Results interpretation:
0 spots showing uniform distribution of fluorescein – normal result;
>10 spots or diffuse fluorescein staining through the epithelial defects – pathological result.
Available packages:
100 pcs. or 300 pcs. sterile, individually wrapped strips.